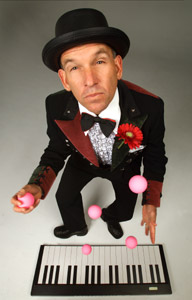 "The audience applauded long and loud for The Piano Juggler"

Philadelphia News Observer


Dan Menendez
Email : dan@pianojuggler.com Phone : (336) 923-5579

REVIEWS
"Now that's show biz, folks!"
Johnny Carson, The Tonight Show

"That's really Impressive!"
Jay Leno, The Tonight Show

"Thanks for another great performance"
Greg Bradshaw, Chicago Bulls

"We look forward to having you back for a repeat performance!"
Jeff Salisbury, Wake Forest Basketball

"Your show was the best!"
San Francisco Mechanical

"You stole the show! A hit in the finest tradition of the club!"
Edward Meister, San Francisco Bohemian Club

"Beautifully adding harmony to juggling!"
"A spectacular show!"
Official, Daidogei World Cup, Shizuoka, Japan

"A unique twist on juggling"
Joe Revello, Comic Strip Live, Fox Television

"The audience applauded long and loud for The Piano Juggler"
Philadelphia News Observer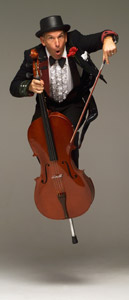 TELEVISION
Ellen Degeneres Show
The Tonight Show with Johnny Carson (three appearances)
The Tonight Show with Jay Leno (two appearances)
ABC Command Performance for the President
HBO "Just For Laughs" Special
The View
Thirty Seconds to Fame
Evening at the Improv
The Statler Brothers Show
New Mickey Mouse Club
Steve Harvey's Big Time
I've Got a Secret
The Pat Sajak Show
Super Dave Osborne
The Arsenio Hall Show
Comic Strip Live
Carolines Comedy Hour
Nashville Now

INTERNATIONAL TELEVISION
England: BBC 's "The Slammer"
Hungary: Sandor Friderikusz
Germany; Thomas Gottschalk
France; Patrick Sebastian
Personal televisions apperances in Chile, Argentina, Columbia, Canada, Holland, Italy, Scotland, Switzerland, Spain, Portugal, Japan, Korea

SYMPHONY ORCHESTRAS
Montreal Symphony
Indianapolis Symphony
Baltimore Symphony
Eugene Symphony

COMEDY FESTIVALS
Just For Laughs, Montreal
Molson Comedy Festival, Toronto
Montreux Festival de Rire, Switzerland
Variete De Bale, Basel, Switzerland
PROFESSIONAL SPORTS
Over 150 half-time shows for twenty of the NBA teams including,
Boston Celtics, Chicago Bulls and Phoenix Suns...

Many games for the NHL (Hockey) including;
The San Jose Sharks, and The Carolina Hurricanes.

College Basketball;
Wake Forest University, Penn State Univ, Oklahoma State Univ...

Pro Baseball, Indoor soccer and Arena Football

Hundreds of corporate Clients
Chevrolet, IBM, Apple computers...

Rock Concerts!
The X Fest 2001 in Indianapolis opening for "Ramstein"

Toured 12 cities for "The International Auto Show"
New York, Chicago, Los Angeles...

CASINOS
Harrahs, South Lake Tahoe
The Showboat, Atlantic City
John Asquaga's Nugget, Reno
Trumps Taj Majal, Atlantic City
Bally's, Reno
Merv Griffin's Resorts International, Atlantic City
Flamingo Hilton, Reno
The El Dorado, Reno
Ceasars, Las Vegas